Does your office need to:
Relocate?
Reorganize?
Adapt for a new generation?
Incorporate new technology?
Read on for more of our best tips, research, and information about all that and more!

Moving to a new office is an exciting step in any business' lifecycle. Whether you're changing locations, growing your team, or cutting down on unnecessary expenses by moving to a smaller office, there are a lot of pros to taking the leap into the next chapter of business. Moving also has the potential to be a profoundly stressful time. There are many logistics to manage and details to oversee including selecting the right office space, designing the layout, selecting furniture and accessories, and executing the move itself. Apex is the right partner for complex relocations. Check out our relocation case studies for more information.

Check out our blog, Six Ways to Ensure A Smooth Office Move.
You might already be working with a broker, looking for the perfect space. We've laid out a guide to understanding the key steps and potential pitfalls that happen during broker-facilitated moves.
Not sure where to start? We hold free workspace consulting sessions with companies who are seeking a new workspace strategy. Together, we will pinpoint your needs and create a clear vision for the new office space before you start viewing properties. Contact us to learn more.

Office space directly effects a company's ability to attract and retain talent. With commercial real estate prices on the rise and vacancy at an all-time low, finding the perfect office space is becoming increasingly complex. At Apex, we tailor solutions for each client by assessing their needs and goals and providing workspace solutions that best suit your organization.
But how do you bring in more people to a space that is already at max capacity? Office reconfiguration is an excellent alternative to finding additional office space, especially as commercial real estate availability continues to drop. While remote working and telecommuting can be a great way to introduce additional team members, there will be times when everyone is required to be in the same space.

In today's market, maximizing your organization's square footage is more crucial than ever. Small misuses of floor space will add up to large long-term real estate waste. At Apex, we work with our clients to build flexible, functional workspaces so their employees can thrive.
Before you decide to make a major move, take a good look around. How many items are essential to your business' productivity? If you're seeing unnecessary clutter, it's time to find a solution. Need help identifying items to place into storage? Here are 6 of the most commonly stored office assets:
Records
Seasonal décor
Equipment
Furniture
Event Materials
Product Inventory
If you do decide to stay, make sure you renegotiate your lease like a pro!

Flexibility and reconfiguration aren't the only workspace changes; by 2020, the millennial generation will make up 46 percent of all workers. In fact, you've probably noticed more Millennials in the workspace as they've graduated from college and begin to settle in their careers. That's why it's important to consider how your workspace impacts millennials and how it can be adapted for the future. We've compiled some simple tips to help boost the productivity of your millennial employees and their older colleagues.
Maintaining an office space that is on the leading edge of design can be a tough challenge – especially when you're trying to accommodate multiple generations. We have some suggestions to modernize your company's workspace without the hassle.
Maximize Existing Space
Make Yourself at Home
Movement Matters
Less Ego, More Collaboration
Take a peek at our blog, 4 Solutions for an Outdated Workspace for more information!

With more Millennials and Generation Z in the workspace, you're probably also seeing a rise in new technology. The use of technology can be a great way to increase productivity, ease collaboration, and increase efficiencies.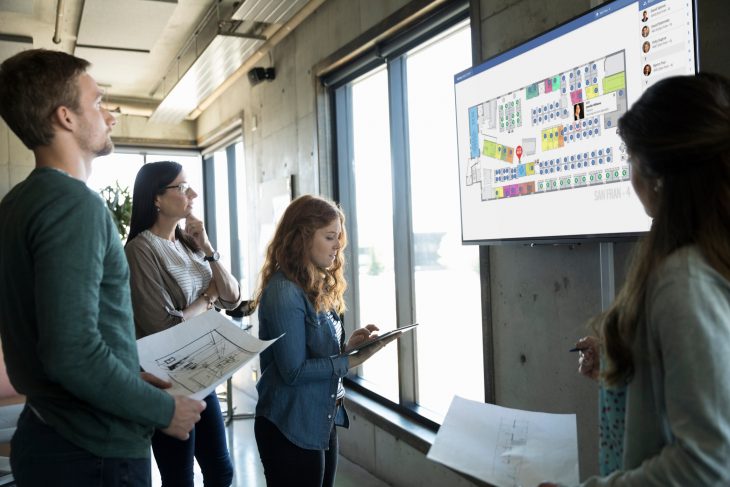 One of our favorite technology tools is Apex Facility Soft, an easy and efficient tool to help manage our clients' workspaces. With Apex Facility Soft, you have live and up-to-date interactive floorplans and occupancy/vacancy information (great for Human Resources and Facility Managers). It also allows your employees to reserve desks and meeting space – fantastic for ensuring people are safely distanced.