KPFF partnered with Apex to install new furniture in their renovation project in Seattle, WA. The space was designed by JPC and constructed by DPI. Apex provided furniture workstation solutions from AIS, SitOnIt, and Davis furniture.
Size: Three floors within Westlake Office Tower
Location: Seattle, WA
Project Duration: 6-month phased project. Apex decommissioned existing furniture on each floor and followed the completed construction to then install the new furniture.
Manufacturers: AIS, SitOnIt, Fellowes/ESI, Humanscale, Watson, Davis, Great Openings
KPFF wanted to maximize the space while also providing an open-plan concept that would allow natural light to highlight the space. As an engineering firm, it was a priority to develop workstations that would provide privacy for focused work. We achieved this goal by using slim profile privacy screens mounted to the work surface on two sides of each workstation with an electric sit-to-stand base attached. This enabled the team to have privacy and minimal distractions at all times whether they were sitting or standing.
Sit-to-stand desks typically bring challenges of a messy appearance with wires hanging below. We implemented the Humanscale Neat Tech cable manager that mounts to the desk and holds all cords and power strips in a clean, contemporary flexible sling.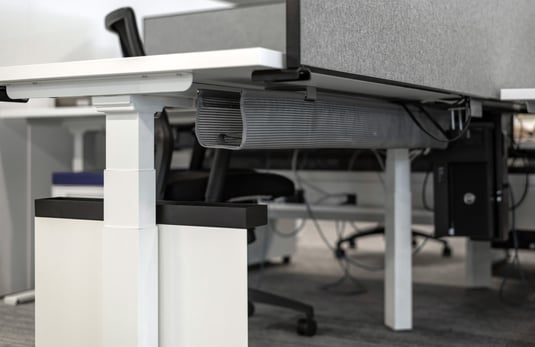 We pride ourselves in helping our clients create green solutions for their spaces at any step of the project. KPFF implemented custom waste stations that included recycling, composting, and trash by each work group. These units included open closets to hold coats and boots for the team as they come in from the field. The style of the workstations provided a cost-effective, efficient and functional solution for the space while minimizing clutter.